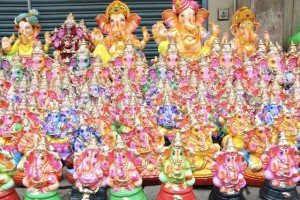 A variety of images of Lord Ganesha are now on sale on the pavements of North Mada Street in Mylapore. Sales began on Wednesday morning. The images are made in places like Kanchipuram, Panruti and in north Chennai.
All of them are painted and prices range from Rs.130 to Rs.4000.
The images were unloaded here at night and hawkers had to pull on the plastic sheets when it drizzled lightly this morning. They expect sales to pick up from this evening.
They say the input costs have raised the cost of these images.