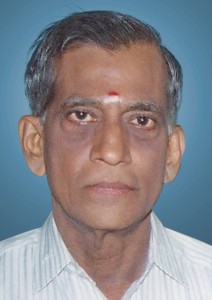 S. Rajagopal, aged 71 years, passed away on August 25, 2014. He was a resident of Mayflower Garden at R. A. Puram for  28 years.
He was an opening batsman and a wicket-keeper since his  school days and represented Ramakrishna Mission High School, A. M. Jain College and later, L&T till his retirement. He played for Shanthi CC, Bharathi Sports Club (TNCA league team) and Seahawks (L&T league team) and won several  gold and silver medals and cups.
He had a huge friends circle including B. Saroja Devi (actress), Shivakumar, opening batsman and mridangist (father of Nithyashree Mahadevan), and Dr. Ravi Ramamoorthy (neurosurgeon). At office, he was known as SRG, among others as L&T Raju, and at home as Gopal. Kind and helpful especially to the needy, he used to participate  in Christmas services.
He was interested in western music and an admirer of pop singers like Cliff Richard and Elvis Presley, which led him to play the mouth organ and Spanish lead guitar. He participated in the light music troupe of music director Shyam. A keen observer of Carnatic music, he developed his knowledge while interacting with flautist Dr. N. Ramani, Clarinet AKC Natarajan and N. Thyagarajan. As an Iyyappa bhakta he went on pilgrimages to Sabarimala for more than 45 years.
Rajagopal whole-heartedly supported his wife 'Kalaimamani' Harikatha exponent Gowri Rajagopal till his end. Without his encouragement, she could not have continued to hold Harikatha discourses. He arranged for her programmes at Malaysia, Singapore and London, and accompanied her.
His final rites were performed by his elder brother. He is survived by his wife Gowri Rajagopal who can be contacted at 24610680.
– Tribute by wife Gowri Rajagopal.