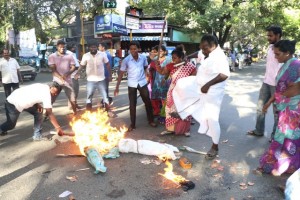 The Mylapore neighborhood looked more like a ghost town as dusk fell at 6 p.m. on Saturday – shops and big stores had downed their shutters, local offices had closed early, autos were off the roads and even the street end tea shops and hawkers had shut shop. All this because the fear of violence and hooliganism following the court verdict against state chief minister J. Jayalalithaa in Bangalore in a  case of disproportionate assets, sentencing her to jail.
The situation was expected locally if the verdict went against the chief minister and it did, with party cadres of two leading parties clashing at some places. Word came in after lunch that the San Thome residence of Dr Subramaniam Swamy, who had filed the case had been stoned.
The AIADMK cadres came out in large groups at Luz and shops quickly downed their shutters. The word spread and most shopping areas wore a deserted look. A group carried an effigy of Swamy and burnt it on C P Ramaswamy Road and elsewhere  down this road.
Police were seen at junctions like Luz but there was no violence. in CIT Colony, where DMK leader M Karunanidhi has a residence, over 200 cadres of DMK gathered; some had lathes and pipes with them: they said they wanted to keep off  any challenges made by AIADMK cadres.
By dusk, the roads got deserted, people kept indoors and most streets were in darkness save for the dull streetlights.
The Navaratri evening had also dullened and community exchanges suspended. Even concerts and meetings were called off.