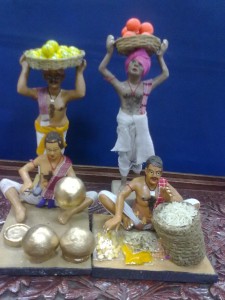 At the Hasthakala handicrafts exhibition and sale at Alwarpet, there are Kolu dolls in clay, papier mache, terracotta, marble dust, wood, radium, and even in cloth.
These are from different states of India like Andhra Pradesh, Karnataka, Kolkata, Rajasthan, Pune, Pondicherry and Tamilnadu.
Open from 10 a.m. to 9 p.m. till Oct. 2 at Sankara Hall on T. T. K. Road, Alwarpet. Ph: 9042766772.