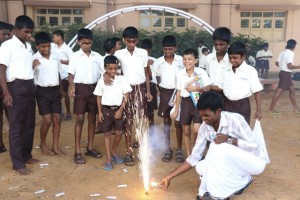 A sunny Wednesday has invited people to celebrate the festival of Deepavali freely – pre-monsoon rains since the weekend had got shop owners into a grey mood and shoppers frustrated. The rain had been steady so it did not allow people to run out to shop for stuff to make sweets and savories.
Yesterday was a sunny day and many makeshift bunks which sold firecrackers were busy though people complained that the cost of crackers is now steep and chose to buy just a handful. Shops in Mylapore and Alwarpet were open till close to mid-night. Sweets shops were also crowded.
This morning, families streamed into Mylapore's temples to say a prayer and seek god's blessings for Deepavali.