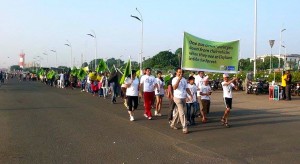 The Wild Walk – a group that works for wildlife conservation and literacy – organised a global march for awareness on October 4, starting from the Marina Beach to the Labour Statue.
People from all over the city participated eagerly and showed up at the venue at 6 a.m. on a Saturday morning. Some came from far flung areas like Tambaram or Purusawakkam apart from residents of Mylapore and Triplicane. Students of Ramakrishna Mission Home also participated.
The marchers waved flags while some marched on foot and some rode the route on bikes.
The organisers disseminated information on poaching of elephants and rhinos and called for a ban on ivory trading across the world. They also drew attention to issues such as illegal trekking at sanctuaries and how this impacts creatures of the wild and requested that wildlife photographers be more sensitive while clicking photos so as not to disturb wild life.
A total of 127 cities around the world participated in this global march on World Animal Day.