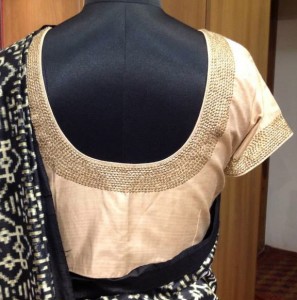 Shilpi boutique, opened in 1980, has changed its management in the recent past. To attract younger and newer customers, they have had midnight sales twice. This Diwali, the boutique on C. P. Ramaswamy Road, Alwarpet has been lit up in bright lights and the overhanging banner reads 'Shop open till 10 p.m. today' in bold letters.
On offer are tussar silk cholis with gold and silver zari threadwork, sequins, fine Benaras silk net, mirrorwork and with tassels, solid-colour long-sleeved raw silk kurtas, embroidered anarkali sets, kalamkari kurtis, papier mache earrings and lots more. 
The banner has been up since the weekend but due to the heavy downpour, not many customers have been venturing out for festival shopping. Today, however, with the sun out, the boutique is buzzing with customers, regular and first-timers, and the staff is busy attending to them and re-arranging the shelves.
Open till 10 p.m. today and from tomorrow, after a pooja, the store will open at 12 noon and stay open till 10 p.m. At 29, C. P. Ramaswamy Road, Alwarpet. Ph: 24997526 / 28282603.