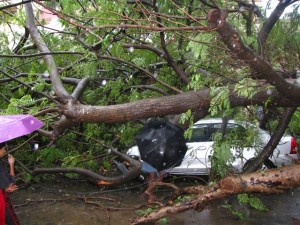 A avenue tree at Madha Church Road (San Thome end, at the junction of Madha Church Road and Thandavarayan Street) on the morning of Oct.24 at around 7:00 a.m, trapping a car and a few autos parked underneath.
The tree had excessive growth towards the northern side and was seen leaning heavily to one side.
Police and Fire & rescue services immediately rushed to the spot and began the process of clearing the road. This was a timely and prompt action.
– Report and photo by K. Srinath.