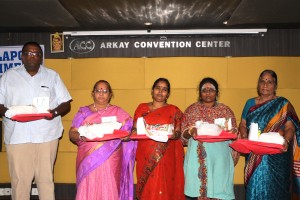 The Navarathri golu contest hosted by Mylapore Times was an event to remember. 75 Mylaporeans registered for the contest. The judge – Gayathri Sankaranarayanan visited the homes of the prize winners to have a look at their display. Twenty winners were selected – 10 for the main golu and 10 for the theme golu.
The prize distribution event was held at Arkay Convention Centre, Mylapore on Oct 4. The event started off with a video presentation of all the 75 golus. Excitement filled the air as the participants identified their golu onscreen.
When the certificates were issued, the audience broke into an applause recognizing the efforts of each participant. The winners received gifts/vouchers from the sponsors – Sri Mohan Dress Centre, Giri Traders, Naturals salon and spa, Chennai Chilling ice creams, Suriya Sweets, Giri Traders, Hari Agencies and Amrutanjan.