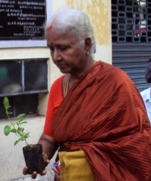 On the occasion of Navaratri last week, NGO Parampara from Alwarpet organised a 'Tulsi Seva' to pay obeisance to the sacred plant 'Tulsi', considered the plant incarnate of goddess Lakshmi. A 108 Tulsi saplings were distributed free to devotees at the Sai Baba, Kapaleeswarar, and Keshav Perumal temples in Mylapore, and Anjaneyar temple in Alwarpet.
The organisation regularly conducts Tulsi Vrindavan in educational institutions and hospitals as the Tulsi is considered a healing plant that purifies the air around it, is believed to promote prosperity and harmony, and discourages the proliferation of germs and mosquitoes.
Parampara is located at 46, Kasturi Ranga Road, Alwarpet. Ph: 24991516, 8220103767.