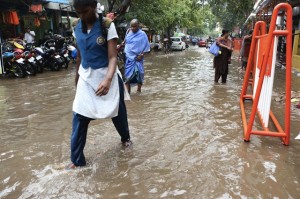 Motorists driving down San Thome High Road on Saturday morning, as easy as 6 a.m. literally drove into a channel of swirling water from the Pattinapakkam end of the road and the lucky ones, made a U turn to drive away from what was one of the nastiest sights following rains on the weekend.
The water had been rising through the night and nobody seemed to note the danger that it would pose. However, on Saturday late civic workers opened up the drain manholes to help drain the water. There was less flooding here on Sunday.
But water flooded in areas like Venkatesa Agraharam, inner Abhiramapuram and Mandaveli areas.
The stop in the rains on Sunday gave time for the water to drain away.