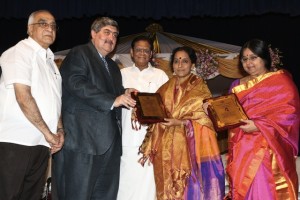 The annual music and dance festival hosted by Bharatiya Vidya Bhavan got off to a great start with a packed house of rasikas applauding two Carnatic music artistes who were decorated with awards – E. Gayathri, veena exponent who is now Vice- Chancellor of the TN Music University and vocalist Bombay Jayashri.
The chief guest for the launch event was the chief justice of the Madras High Court, Sanjay K Kaul and he presented the awards.
The launch event was followed by a concert by Jayashri. It was well past 9.15 p.m. when the show ended.
The fest presents concerts through the evening through November at this venue.