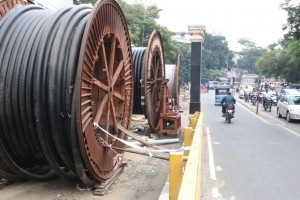 People walking down the Mylapore end of Royapettah High Road have to be extremely careful when they negotiate one side of it because it has been dug up to enable TANGEDCO to lay its new set of power cables.
With the intermittent rains the past fortnight, the loose soil is posing a danger to those who may take their eyes off the roadside especially at night.
TANGEDCO has been laying the new cables in parts, having completed the job on Lazarus Church Road and beyond. It says that this is part of a new project that will help improve the power supply to this area which has a huge demand for it.