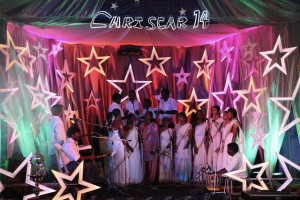 The Christmas season was set afloat at the  Our Lady of Guidance Church campus on Sunday last with the ChrisCar event, a inter-church carols singing contest promoted by the youth of this church in R A Puram.
About a dozen teams sang their hearts out, mostly in Tamil at this contest held in the outdoors after the evening Mass. The stage was smartly decorated and lit up and the carols floated down Lazarus Church Road where the church is located.
Next Sunday evening the church units called anbiyums ( small Christian Communities) of this parish will host their own carols evening.