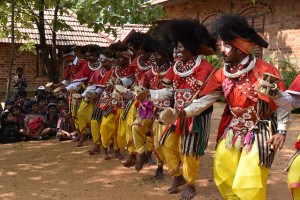 The 2015 edition of Sundaram Finance Mylapore Festival opens on Thursday, January 6 morning with the traditional 'mikeless' kutcheri at Nageswara Rao Park in Luz featuring young music students. This community-driven cultural fest, the only one of its kind in this city will feature over 25 events across 4 days, ending 
on Sunday
evening.
The fest makes uses of open spaces in and around Sri Kapali Temple, Mylapore and flows with the culture and tradition that this unique zone in Chennai still nurtures.
The main stage, located in Sannidhi Square, in the eastern side of the temple will host the performance shows – from Bharatanatyam-based dance dramas by guru Lalitha Ganapathy from Velachery and the Balagurunathans from Adyar to Kattai-koothu by Sri Mandaveli Amman Nadaga Manram from Kanchipuram district.
This year, to celebrate the centenary of Queen Mary's College on the Marina, the Fest presents groups of students from the Music Department presenting short concerts and a 25-member group presenting a folk dance and silambattam medley on the weekend.
This is the first time that QMC will be featured in a big way in the Fest which also encourages young talent besides professional artistes.
A new feature at the Fest this year is the Organic Food Corner that will be abuzz on Pitchu Pillai Street ( west end ) where stuff of all kinds including rice, millets, juices and candies will be on sale.
The Heritage Walks are most in number this year – V. Sriram will take people through streets and lanes which made the village of Mylapore, some 200 years ago; Dr Chithra Madhavan shows people around three temples in a zone north of Kutchery Road, sharing their histories and architecture; foodie and IT professional Sridhar Venkataraman plans to show people the nooks for great Mylapore snacks, Cycling Yogis pedal to explore this and architect T. Sundari will highlight the fading forms of yesteryear architecture of the houses on two mada veedhis.
For all those who must be part of the hugely popular Kolam Contests on N. Mada St., a small change to note – registration must be done only at the kolam venue where counters will open at 
3 p.m.
 for the 
3.30 pm
 contests – on 
Jan.10
 and on 11th.
There is also a Kolam Contest for Kids – open to kids upto 14 years in the Sannidhi Square. Starts at 
4 p.m
 and there is no need for prior registration.
Twelve teams will make the Food Street come alive while 15 groups will set up shop on the Craft Street along the temple tank border. 15 teams of Self-Help Groups managed by the TN Corporation for Development of Women will populate an adjoining street to set up their own Bazaar offering simple stuff for your homes. These are open in the evenings on all four days.
There are chess tourneys and craft workshops for children and open contests in dayakattam and pallankuzhi for adults and for children ( on the weekend).
A photo exhibition on the mada street will feature 35 pictures of Mylapore and Mylaporeans taken in the 1950s/60s. Old-time photo studios like Satyam Studio and Lingans Studio have contributed their pictures for this display.
                Sundaram Finance will decorate a senior Mylaporean with the 'Spirit of Mylapore' award on the 
Sunday
 of the festival.