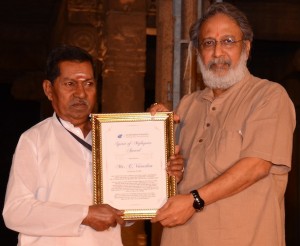 The owner of the oldest mridangam repair shop in Mylapore, the one  on Mathala Narayanan Street was chosen for the 7th Sundaram Finance 'Spirit of Mylapore' Award.
The award was presented on Sunday evening ( Jan.11) to the shop's owner C Varadan by T. T. Srinivasaraghavan, MD, Sundaram Finance Ltd., as part of the final day events of the 13th Sundaram Finance Mylapore Festival on the main stage in front of the Kapali Temple.
Presenting the award, Srinivasaraghavan said, "Varadan learnt the art of repairing the mridangam from his guru as an 11 year old boy in the 1950s and has, over the decades, grown into a Mylapore legend. He has served the who's who of Carnatic music from his iconic shop, which stands to this day, on Mathala Narayanan Street in Mylapore. In a fast changing world, Varadan is a rare gem, as committed to his art today as he was all those decades ago. He truly embodies the Spirit of Mylapore."
Varadan said he was grateful to be honoured by Sundaram Finance with this prestigious Spirit of Mylapore Award.
Sundaram Finance had in January 2009 instituted an annual 'Spirit of Mylapore' Award to recognise every year in January one long-time resident or institution of Mylapore who / that has contributed significantly to the culture and heritage of Mylapore
Previous recipients of the award include road side book seller R K Azhwar, Dabba Chetti Kadai and Lady Sivasami Girls School.