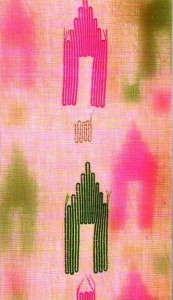 TEMPLE COLLECTION
Designers Shovit Dasgupta, Durba Naga and Sharan Kaur of Notikeyou are showcasing their Temple Collection at The Amethyst Room till Feb 28. The collection features temple motifs developed in jamdani technique. Check out their old fabrics, top and kurtas that have been transformed into skirts. At 106, Chamiers Road. Ph: 24311496.
CRAFTS MELA
A Poompuhar crafts exhibition cum sale organised by The Tamil Nadu Handicrafts Development Corporation Limited is on at Sankara Hall till Feb 23. Check out the Bronze icons, brass oil lamps, Tanjore paintings, wood crafts, stone carvings, jewellery and textiles and more being offered at a discount of 10%. At T. T. K. Road, Alwarpet, 10 a.m. onwards. Ph: 9843551048.
YARD SALE
Jaishri Rao, the owner of Jaishri Premium Rejuvenation Salon is organising a yard sale called the 'Mandaveli Market' on Feb 22. Used clothes and books, sarees, eco – friendly jute bags, home made bread, sweets, paneer and pickles, home décor, terracotta, pet portraits, silk sarees from Vastrakala and more will be on sale. At 52, Venkatakrishna Road, R. A. Puram, 2 p.m. onwards. Ph: 9840147808.