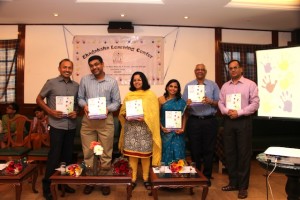 Ekadaksha Learning Centre, the school that educates and equips children with special needs to be independent, celebrated its fifth anniversary on Sunday. March 1.
S. Krishnan, Principal Secretary (Planning and Development) to the Govt of Tamil Nadu and on special duty to the 14th Finance Commission was the chief guest. He released a souvenir to mark the occasion. He said that the Tamil Nadu government, with the help of a few NGOs is trying out models where children with special needs and senior citizens in community centres are brought together, as a family. He also
informed the gathering about the special health insurance scheme for those with special needs, that can be opted for in addition to any other scheme that they may be subscribing to.
Other guests present included Vivek Reddy, tennis champion and founder CEO of Kothari Pioneer Mutual Fund (India's first private mutual fund company) – he spoke about inclusivity in schools and society. He said he had been blessed by God with a special child, which he would not trade for anything in this world. Vivek Reddy added, "We should not worry about what the society would think of our special child. What is important is how we treat our kids. Because society's view of special children would be shaped by how we take care of them."
Dr. Shanthi Krishnamoorthy, Chief Operating Officer of TnQ Books and Journals Pvt Ltd talked about the career opportunities of children with special needs. She brought her daughter who had Asperger's Syndrome – she has completed her post-graduation – and wanted to let others know that education and career were possible for special children.
Mangala Bhavani, a nutrition consultant, specializing in dietery aspects of special children and sports personnel spoke about the nutritional needs of special children.
During the fifth anniversary celebrations of Ekadaksha, there was also a display and sale of products and artwork made by the students of Ekadaksha Learning Centre.
The Centre was started on 4 March, 2010 by an all-women team comprising of Bharathi Balarajan, Archana Joshi, Bindu Haridas and M. S. Kanaka.  The team presented their journey of starting with two children and growing to add sessions for children with varied needs and their special summer camps, besides a host of other activities.
Ekadaksha can be contacted at ekadaksha@gmail.com and 044 2495 0831.