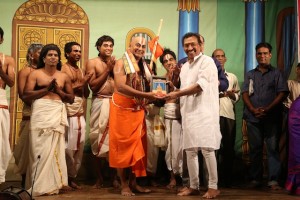 Two more plays remain to be staged at the Purana Nataka Vizha which is being organized by
Tamil Nadu Eyal Isai Nataka Manram in collaboration with Narada Gana Sabha Trust
at Sathguru Gnananandha Hall, T.T.K. Road Alwarpet.
These will be staged on March 11 and on 12th, 6.30 pm.
This initiative by the Manram provided the troupes with funds to stage the plays. Photo shows Manram head, music director Deva felicitating the group from Chennai which staged a play on the life and times of Carnatic music great, Thyagaraja.
Tamilnadu Eyal Isai Nataka Manram is at No.31 "Ponni" P.S.Kumarasamy Raja Salai,
Raja Annamalai Puram, Chennai – 600 028.
Ph.044-24937471