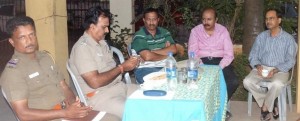 On Mar 15, the members of Raja Street Residents Welfare association at Mandaveli and the police officials of E5 station, Pattinapakkam, got together to discuss security issues and safety measures that can be implemented to prevent crime in their neighbourhood.
B. Ravi Sekaran, ACP, Mylapore area and Venkatesan, inspector, Pattinapakkam police station addressed concerns like chain snatching, theft and nuisance by anti social elements. The beat constable for the area was introduced and his direct contact number was provided.
Residents in turn were asked to verify the identity of household workers, keep an eye out for suspicious activities, coordinate with the corporation to ensure the street lights were operational and install CCTV cameras and a manned drop barricade to restrict access to the street. The meet ended with a programme by the members of Thuyimai Padai (cleanliness brigade).