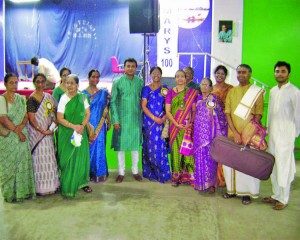 Carnatic music vocalist P. Unnikrishnan performed on March 11 at Golden Jubilee Hall, Queen Marys College arranged by the Old Students' Association.
Before the concert, a lively chat took place – led by people who knew him and his family. " Unnikrishnan had three options as his career, says Alarmelu Rishi, a family friend and a senior alumna, committee member of QMC. 
He was a member of Madras Cricket Club and has played the game up to league level. Hence a career in cricket was the first option. He worked as an Admin Manager in a private firm for 3 years, hence this was the second option. Carnatic music was there  in the family as his mother Harini  is a good, trained  musician. He chose  a career in Carnatic music, she said.
His aunt Komatil Janaki was a professor of music in QMC during late 60s.
Unnikrishnan concluded the concert with a song composed by Alarmelu Rishi on goddess Karpagambal in raga shivaranjani.
He was accompanied on violin by R K Sriramkumar, on mridangam (and the tabla) by Anantha Krishnan and on ghatam by Guruprasad .
– Report and pic by V. Vasantha