WORKSHOPS
MAKING ICE CREAM
Frangipani Culinary Expressions is organising a natural fruit flavoured ice cream workshop on Mar 14. Participants will learn to make four sundaes, 12 varieties of icecream and four sauces. At 6/9, Crescent Street, Boat Club Road, Off ABM Avenue, Alwarpet, 11 a.m. To register contact 9962048088.
SHOPPING
COTTON SAREES
An exhibition – 'Bright and beautiful' from Abha by Arundhati Menon featuring pretty, soft and bold Kerala cottons and featherlight phulias is on at Samasta. At 29, C. P. Ramaswamy Road, Alwarpet. Ph: 42721110.
POCHAMPALLY MELA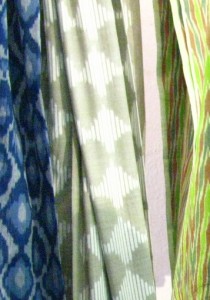 A Pochampally IKAT mela featuring hand woven and eco friendly handloom products is on at C. P. Art Centre till Mar 16. Check out the bed and home linen, dress materials, scarves, dupattas, table mats, covers, cotton shirts and kurtis skillfully created by the weavers of Pochampally, Telangana. At 1, Eldams Road, Alwarpet, 10 a.m. Ph: 9884446747, 9542976567.
HANDICRAFTS EXHIBITION
An exhibition cum sale of handloom and handicrafts from Rajasthan has been organised at Sankara Hall, Alwarpet. Check out the cotton sarees, nighties, long skirts, kurthas for children, bedsheets, banjara bags, pillow covers, door mats, table cloths, furniture, carpets and more on display till Mar 20. At TTK Road, Alwarpet, 10 a.m. Ph: 9840061821.
DRESSES, HANDBAGS
A wide range of resort wear including fabrics in linen and cotton by Paprika is on display at The Amethyst Room till Mar 21. Look out for their maxi dresses and sheer tops with embroidery and flora and fauna inspired graphic appliqué in whites, reds and blues. Also on sale are handcrafted cotton handbags and accessories in pastel colours by Bun Maska. At 106, Chamiers Road. Ph: 43042099.
MISCELLANEOUS
AN INFORMAL DISCUSSION
The second session of You Speak India's café – based discussion forum – "What's Brewin'?" will be held on Mar 15 at L'Amandier Bistro, R. A. Puram. Young people, over cups of coffee and refreshments, will discuss important issues of politics and public policy in India. Experts in academia, politics, governance, jurisprudence, arts and activism will direct and add insight to the discussion. At 57, 2nd Main Road, R. A. Puram, 4 p.m. Ticketed. Ph: 9042996995, 8939577337.
TALES FROM THE MAHABHARATA
Shradda Theatres and Kattaikuttu Sangam – a grassroots performing arts organisation, will present 'Draupadi Kuravanji' – a folk theatre adaptation of an episode from the Mahabharata. Draupadi's attempt to foil Duryodhana's plans of stopping the Pandavas from coming out of exile will be highlighted. On Mar 14 and 15. At Narada Gana Sabha, T. T. K. Road, Alwarpet, 7 p.m.
COMEDY NIGHT
Evam Standup Tamasha will present a stand – up comedy night on Mar 15 at Tickle Pickle. Featured are acts by SA, Bala, Alex and Baggy. At 94, Sathyadev Avenue, MRC Nagar, San Thome, 8 p.m.
ART SHOW
Paintings by MF Hussain, Manjit Bawa, SH Raza and Nadees Prabou from Pondicherry are on display at Vinnyasa Premier Art Gallery till Mar 30. At 21/11, First Main Road, C. I. T. Colony, Mylapore, 11 a.m.
EATING OUT
SUNDAY BRUNCH
Ashvita Bistro is hosting a new Sunday brunch featuring more than 20 dishes including fresh juices, salads, grilled chicken/bacon, stir fried vegetables, baked beans, pasta, sausages, fried rice, pancakes, cut fruits, cupcakes and Indian delicacies like aloo paratha and more. At 11, Bawa Road, Alwarpet. Ph: 42031982.
JAPANESE DELICACIES
Teppan is hosting a 'Maki – Zushi' festival at its Alwarpet premises till Mar 29. Feast on authentic Japanese dishes like kasi sake, kenko maki, karai inoku, karai shoyu maguro and more. At T. T. K. Road, Alwarpet. Ph: 32216635.