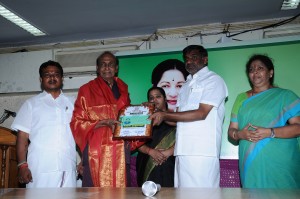 Cartoonist S. K. Rahnu was honoured with the 'Kalai Mudu Mani' award at a function held in the city on Apr 8.
Rahnu, aged 74, has been a resident of R. K. Mutt Road, Mylapore since birth. After graduating in fine arts in 1956, he worked in several places before accepting the position of art master at San Thome High School, San Thome in 1969. He worked there for almost 20 years.
Rahnu started drawing at the age of 15 and has drawn for thousands of books and magazines since then. He is a trained government artiste and conducts several workshops for children and adults regularly. He can be contacted at 24640487, 9710191276.