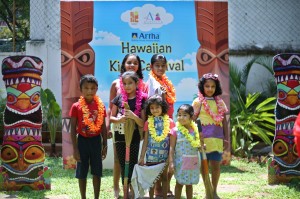 A Hawaiian carnival for kids organised by Creative Ladder was held on Apr 25 at Luz House, Luz.
Food and product stalls were set up along with art and craft zones and a photo booth.
A painting session was the highlight of the event. 30 children created a flash of strokes on a 16 ft wide canvas in a  very novel manner – for they used brooms, sponges and wipers to create  this piece of work. And what was it all about?
Artwork meant to create awareness about the 'Swacch Bharath' campaign. That canvas had other impressions to – the prints of children who danced, while others rolled and slided along leaving patterns on the canvas.
Luz House, which is a heritage mansion off Luz Church Road has been renovated and now offers to host parties, fairs,community events and fashion shows too.