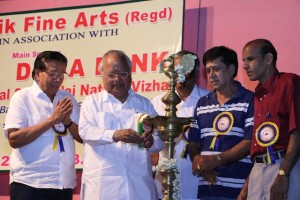 Who says Tamil theatre is dead? Thundered actor and director Y. Gee Mahendra some weeks ago at the theatre fest hosted by Bharattya Vidya Bhavan along with producers of Tamil plays.
He had some reason to thunder because many plays seem to be attracting a good audience. Evidence again at the new set of plays which are being staged at Narada Gana Sabjha since the past mid-week as part of the Kodai Nataka Vizha of Kartik Fine Arts.
On Friday evening, when the  Dummies troupe staged their new play, featuring lots of young people and sets and pros that went beyond mere walls and curtains, the large auditorium was packed and there was no space in the parking lot.
People laughed and clapped at the dry humor and the cliche repartees and though some parts of the play meandered down expected lines, they sat through it.
< You can find the schedule of plays in this earlier report. https://www.mylaporetimes.com/2015/04/tamil-drama-fest-starts-this-evening-at-narada-gana-sabha/