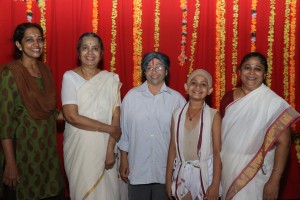 Meet the women behind the acclaimed "Bhaja Govindam" drama by MLDG (Mahalakshmi Ladies Drama Group) founded by Bombay Gnanam in 1989.
Over 20 members make up the troupe and some are Mylaporeans. Here are the Mylaporeans who star for Bhaja Govindam :
Malathy Narayanan who plays Aryamba's friend in the drama has been with the group since its inception. Jayanthi Gowrishankar is also one of the founding members of the group. A resident of R. A. Puram and  a home maker, she says she juggles her roles as mom and artiste. In the play, you can spot her as Telugu Anjanelu.
The character of scientist Saketan is played by Suchitra Ravichandran . Suchitra is supported in her acting interest by her husband, Ravichandran, Secretary of Brahma Gana Sabha.
Another actor, Shyamala Sreevatson is a  teacher during the day, but has no problem morphing into Kumarilapattar – her character in the drama. She is a KG teacher at Vidya Mandir school and has been a professional artiste for more than 20 years.
Arushi Vibhu , the youngest member of the team is 8 years old and a student of Vidya Mandir. Juggling rehearsals and homework doesn't seem to be very difficult for this 'hero' of the Bhaja Govindam story – she plays the role of young Shankara !