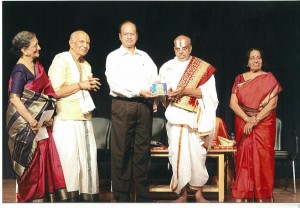 A thematic dance presentation on 'Thanthondri Perumal' was held recently at M. Ct. M School, Luz. About 500 people gathered at the school auditorium to enjoy the ballet which portrayed the miracles and mythological episodes of the diety.
Dr. T. S. Sridhar, IAS additional chief secretary and revenue commissioner, TN, was the chief guest at this event organised by Nrithyopasana Trust.
A CD, 'Subrabatham' by musician Dr. Rukmini Ramani and vocalist Gayatri Girish was released.