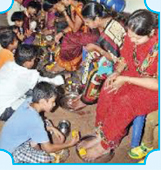 Vivekananda Bala Mandir, a unit of Ramakrishna Math, Mylapore conducts summer cultural classes for children every year in May. Children are introduced to Indian culture and tradition, Gita and vedic chanting, slokas, bhajans, drawing, story telling, yogasanas and more.
This year, as a part of their camp, a special weekend programme has been organised wherein the students and children will honour their parents, guru and God. On May 10, students will participate in 'Maathru Puja' and will take a pledge to respect and love their mother.
At R. K. Mutt Road, Mylapore, 9 a.m. onwards. Ph: 24621110.