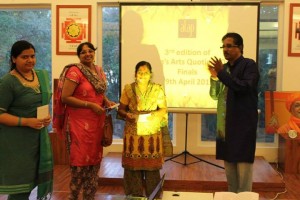 A trio of women won second place in the Aalap fine arts quiz conducted in April. Naveena, Ramya and Rajalakshmi have a keen interest in music and dance.
Naveena's mother is well known kuchipidi dancer Lakshmi Mani. Naveena sings for her. She is an active quizzer- she has represented the University of Madras in the National university meets.
Rajalakshmi has an avid interest in arts. She says she keeps collecting tidbits on performing arts.
They were winners of the Alap quiz last year to. Naveena is a resident of R. A. Puram  and Rajalakshmi lives in Alwarpet.