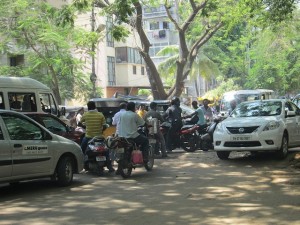 Traffic jams are a regular feature now at the junction of two roads – C. P. Ramaswamy Road and Dr. Ranga Road in Alwarpet. The main cause for the jams is the muddy road left behind after it was dug up to lay new power cables by TANGEDCO. The road cut is across the busy C. P. Ramaswamy Road and vehicles get stuck in the mud or have to slow down across the cut. The jams are severe at peak hour time.
Contractors could have saved motorists some trouble had their men leveled the dug portions on all sides. TANGEDCO is undertaking this project across Mylapore-R A Puram with the promise of stable power delivery,
Even at ordinary times, this junction is chaotic mainly because motorists do not respect they signals.
– Photo and report by Vagadeeshwar Ganesan / Student Trainee