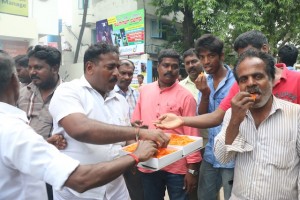 AIADMK cadres began celebrating the acquittal of their leader, J. Jayalalithaa in a case heard at the Bangalore High Court. Fireworks were set off, roads were adorned with flowers and people exchanged sweets and started dancing in the streets.
While most of cadres headed to Jayalalithaa's residence in Poes Gardens, the celebrations were low key in the
Mylapore area this morning. But towards noon, local unit AIADMK leaders began to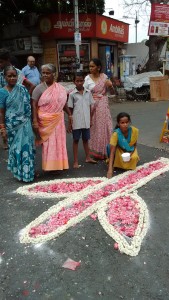 distribute sweets to celebrate the event.
These two photos are of the flower kolam of the AIADMK two leaves symbol, designed on a  Mylapore road and of R A Puram AIADMK man, Dhanapalan sharing sweets with cadres and people on Kamaraj Salai, R A Puram.