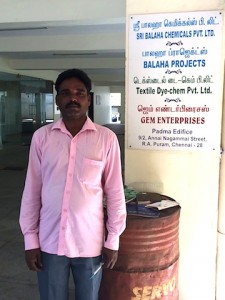 Are there any honest people around us? Here is a story of a man who stood by that virtue. Vasundhra Rajagopal, a resident of R. A. Puram and a regular reader of Mylapore Times experienced it firsthand and shared her story in her own words –
. I am detailing below my experience of losing my husbands wallet and having it returned by a watchman who found it  and returned it with the cash and cards intact.
Getting out of the car on a busy Saturday night (May 9, 2015) on R. K. Mutt Road (near Canara Bank) I inadvertently dropped my husband's wallet on the street.
Unaware of this, I finished my shopping and got back home. My husband also did not realize his wallet was missing until he got a call 15 minutes after we reached home from a person who claimed to have found the wallet.
He rushed to the location given by this caller and found to his pleasant surprise, that the money and credit cards were intact.
The person who found the wallet was a watchman at one of the  buildings where we had got off, Padma Edifice, on Annai Nagammai St. in R. A. Puram.
K. Devaraj got someone to phone my husband using one of the business cards he found in the wallet. I went back to see him on Sunday morning to thank him and found out that he lives with his wife and three young sons near Ambattan Bridge in Mylapore.
He said that he firmly believes God will give him enough for his needs and as this wallet did not belong to him, he had to make the attempt to locate and return it to its rightful owner. While I was really grateful for getting back the wallet, I was totally bowled over by the values and principles with which Devaraj lives his life.
I am sharing this with Mylapore Times and want it published because I feel that such people should be recognized and should be held as role models for all of us.