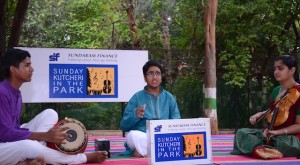 14 year old R Aakash, a student of Vidya Mandir presented a lively vocal Carnatic music performance this Sunday morning (3rd May) as part of the monthly Sunday Kutcheri in the Park organised by Sundaram Finance. The concert was at the Nageswara Rao Park in Luz.
Aakash, who is learning music from guru Samayakumar, was accompanied on the violin by Swathi (disciple of V V Srinivasa Rao – AIR artiste) and on the mirudangam by Adithyan (student of  Vijayendran, disciple of Umayalpuram Sivaraman).
V K Raman, VP, Sundaram Finance was present on the occasion and handed over certificates and mementos to the artistes.
Organised on the first Sunday of every month, Kutcheri in the Park is open to children aged below 15 years. No mikes and speakers are used at the Kutcheri.
The idea is to provide a launch pad for young musical talent and serve as a platform for 'unsung' children. In the last nine years, over 900 children have presented Kutcheri in the Park since its launch in February 2006.
Sundaram Finance conducts audition to select the artistes for the monthly kutcheri. To register for the audition: email sundaykutcheri@sundaramfinance.in