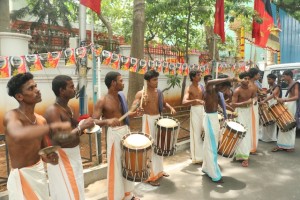 As DMK party chief and former chief minister M. Karunanidhi turned 92 years today, June 3 the buzz around his house in CIT Colony, off Dr Radhakrishnan Salai was muted in the morning. Party flags lined the main road, flex banners were up at many street junctions but the cadres were not around.
The action was on at Karunanidhi's Gopalapuram residence.
But by 12 noon, the CIT Colony scene turned colorful – various music groups, some playing a brass band and some on the chenda kicked up lots of celebratory music and cadres did a jig.
Karunanidhi's daughter, Kanimozhi, now a Rajya Sabha member hosted a lavish buffet lunch, catered by a leading hotel chain. People were invited in to partake of the food and by 1 p.m. some 200 people had dined to their heart's content.