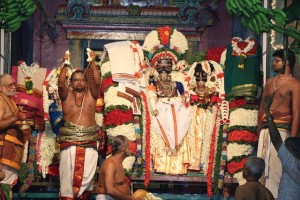 Over one thousand people packed into the campus of Sri Velleswarar Temple on South Mada Street on June 2 night to take part in the Thiru-kalyanam celebration as part of the brahmostsavam that has been on since last week.
There were less than 200 people when the rituals for this evening began but as they progressed at the Kalyana Mahal in the temple premises, the crowd swelled and spilled on to the busy road; part of it had to be barricaded because of the big rush.
Those present said that this was the grandest Thiru-kalyanam they had attended at this temple; lots and lots of flowers were used to decorate the lord and his consort, much like the way it is done for the kalyanam at the panguni fest at Sri Kapali Temple, next door.