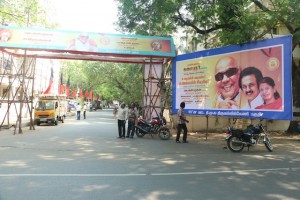 June 3, 1924. That is the day on which M. Karunanidhi, leader of the DMK party and former chief minister was born. On Wednesday, he completes 91 years, much of this spent in political life. The CIT Colony neighborhood where he now resides is being decked up for this celebration.
DMK party flags, buntings, flex banners and illumination went up today as workers toiled in the sun to set up the stage for this event which will draw lots of party leaders and cadres.
The party though has turned to social media to drive this celebration even as it uses technology to communicate on its preparations for the state elections in 2016.