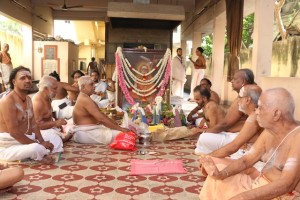 A series of religious events have been held since June 2 morning to mark the 122nd jayanthi of Mahaperiyaval, the Paramacharya. One event was held at the Sankaralayam in the Chitrakulam area this morning.
Another religious event was held at the Vaaniyar Sangam hall near Sri Kapali Temple, Mylapore – also this morning.
One more event was scheduled to be held at Bharatiya Vidya Bhavan this evening where Sri Jayendra Saraswathi and Sri Vijayendra Saraswathi were to take part.