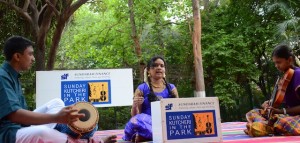 As part of the monthly Sunday Kutcheri in the Park organised by Sundaram Finance, 14 year old Megha Bhaskar, a student of  guru Madhuram presented a vocal Carnatic music performance on a cloudy Sunday ( June 7) morning, 630am onwards at the Nageswara Rao Park in Luz.
Megha was accompanied on the Violin by Haritha Narayanan (disciple of Dr. Hemalatha) and on the mirudangam by Neyveli K. Sai Prasaad (disciple of Neyveli Narayanan)
Megha presented compositions that included Maha Ganapathim (Nattai/ Rupakam), Saraswathi Namostute (Saraswathi/ Rupakam), Natanam Seiyum Paadanar (Ketharagawla/Rupakam), Karpagame Kanpaarai (Madhyamavathi/Aadhi) and Venkatachala Nilayam (Sindhu Bairavi/Aadhi)
G Sundararajan, CFO, Sundaram Home Finance presented certificates and mementos to the artistes.
Organised on the first Sunday of every month, Kutcheri in the Park is open to children aged below 15 years. No mikes and speakers are used at the kutcheri. The idea is to provide a launch pad for young musical talent and serve as a platform for 'unsung' children.