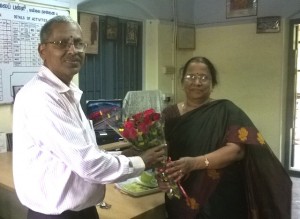 M.Malini, Headmistress of P. S. Higher Secondary School, Mylapore retired on 31st May 2015 after a service of 26 years. She was an able administrator, a dedicated teacher and a visionary, said the management.
Under her leadership the school has made good progress both in academics and sports, a media note stated.
She was given a warm farewell by all the staff members. Both the management and the teachers took part.
T.Padmanabhan, PGT (Physics) and AHM of the school took charge as the Headmaster on June 1.