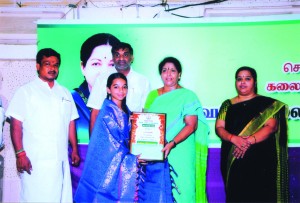 K. Sahana is a student of Class IX at P. S. Senior Secondary School. Recently, she was awarded the Kalai Ila Mani award for her skill in Bharathanatyam. The award was presented to her by the minister of education K. Veeramani on April 8.
Sahana started learning dance from the age of three. Her dance teacher, Parvathi Ravi Ghantasala, identified her prowess in the field and encouraged her. At the age of 7, Sahana completed her arangetram. Since then, she has given more than 150 stage performances, in India and abroad.
In 2011, dancers from all over the state competed for the Kalai Ila Mani award. From each district, 3 winners were chosen who advanced to the state level competition. Sahana was the winner of this competition and the award was conferred on her.
But all this has not taken her focus away from studies. She is an excellent student and wants to pursue Medicine after her 12th standard. The school is also proud of her achievements and encourages her.
Sahana is still learning Bharatnatyam from her teacher, but she wants to learn other dance forms too like Odissi, Mohiniattam and Kathak. Reach her at 9940682886.