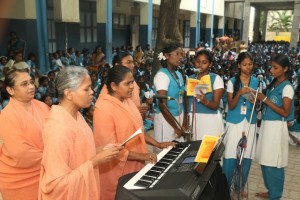 It was time to go back to school – for all those children who have to continue with their studies. Schools re-opened after the long but unusually hot summer holidays.
This Monday morning, the bustle on the streets leading to local schools was back 8 a.m.onwards as school children headed to campuses in vans, cycles, autos and on foot.
Many schools had a special welcome event for the morning. At Chettinad Vidyashram, students took an oath in the open ground as teachers watched on.
At St Anthony's Girls Hr Sec. School on Mada Church Road in Mandavelipakkam, the nuns hosted a religious service and Holy Mass. (photo featured here)
The past week, stores selling books, bags, footwear and school uniforms were packed with people at their last-minute shopping.