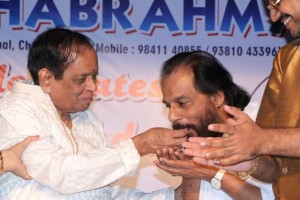 Birthday boy classical music maestro Dr. M. Balamuralikrishna was in his elements; age has slowed him but he loves a joke and some chuckles too. And so, to celebrate his 85th birthday, arts body Naadhabrahmam got up an event at an auditorium at P S School campus, Mylapore on Monday evening. Anecdotes dominated the speeches.
A CD of his songs was released on this occasion.
The main guests were vocalist Aruna Sairam, former IAS officer Dr. J. Uma Maheswari and celebrated singer Dr K. J. Yesudoss.