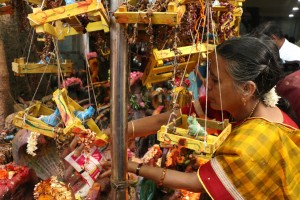 Today is the first day of the Tamil month of Aadi. The first and third Fridays of this month are considered to be very auspicious and devotees flock to local Amman temples to get a glimpse of their favourite diety.
At Mundagakanni Amman temple, Mylapore more than 100 devotees gathered early to offer milk to the Snake Gods and decorate the idols with kumkum and turmeric.
Outside the temple, a portion of the road was blocked to enable the women to make pongal.