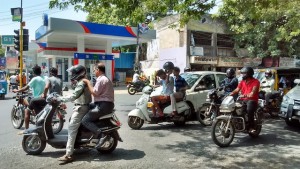 On Day 4 of the 'wear your helmet' regulation for bikers, a good number seem to be taking things easy. On Saturday morning, photographer R Saravanan stopped at the traffic junction at Mandaveli, near the MTC bus terminus to watch the traffic process here.
He saw at least 4 out of 10 motorists and pillion riders were not wearing helmets.
There was no sign of traffic police too.
Meanwhile, the city police commissioner said that his men would enforce the helmet rule strictly.