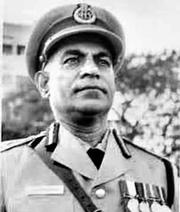 Distinguished police officer C V Narasimhan passed away on July 17 and the cremation is due to take place on July 18, 2 pm at the Besant Nagar crematorium. The Narasimhan family resides at 40, 3rd Street, East Abhiramapuram. He was 90 years old.
Born in 1925 to Conjeevaram Venkatesa Sastry and Jagadambal, in Shankari, Tamil Nadu, Conjeevaram Venkatesan Narasimhan spent his childhood days in the town of Sholingapuram, Tamil Nadu. He was the first of four children in the family of two sons and two daughters.
C. Venkatesa Sastry was a school teacher in the Australian Presbyterian Mission (APM) Middle School at Sholingapuram (then called Sholingur) and C.V. Narasimhan ('Chaami' as he was affectionately known in the family) attended school at APM middle school and grew up in a traditional, modest, small town lower middle class Hindu family setting of British-ruled India.
Since the APM school was equipped only up to the 8th class, C.V. Narasimhan moved to Chennai (then called Madras) in 1937 to live with his grand-father (a retired government employee) and pursued his education from the 9th Class onwards at Pennathur Subramania Iyer High School (P. S. High School) in Mylapore. He secured the first rank and a gold medal in the school final 11th class in 1940.
On the merit of his performance he then got admitted to the prestigious Loyola College in Madras from where he graduated with Honours in mathematics in 1945. It was during his final year at Loyola that Narasimhan's life  took an unexpected turn with the untimely and tragic passing away of his father just on the eve of his final examination.
Despite this tragic event in the family C.V. Narasimhan showed his grit and will by meritorious performance in the examination, securing the first rank in the Madras University and winning the Ananthakrishnan Gold Medal and Stuart Prize of the University in 1945.
Following his father's demise the burden of supporting his family and raising his siblings immediately fell on his young shoulders, and he bore it resolutely.
Family circumstances being what they were at the time he graduated from Loyola, there was little choice for the 19 year old C.V. Narasimhan but to take up a job immediately, without pursuing any further research study in mathematics which was his earlier ambition.
His par-excellence performance from Loyola college earned him an Assistant Professor's job at the St. Joseph 's  College in the city of Bangalore , which then proved to be  the start of a remarkable career that saw Narasimhan scale the highest of heights of government service in a free and independent India.
His stint in the education arena was cut short when he  took the competitive examination for recruitment to the new All-India Services  which were constituted in 1947 when India became a sovereign state independent of British rule.
In this competitive process, Narasimhan was placed first in the first batch of officers appointed to the Indian Police Service ( IPS )  to staff the commanding levels in the police in  independent India. The first batch of IPS officers  graduated  from the   National   Police Academy at   MountAbu  in  1949. 'CVN' as he was known amongst his friends and colleagues, was adjudged as  the Best Cadet of the graduating batch and awarded the prestigious President's Revolver as prize.
Narasimhan  married  Kamala, the eldest daughter of  Mangalam  and  M.K. Narayanamoorthy of Chennai city, in 1952.  Since her marriage to Narasimhan, Kamala Narasimhan went on to build her own career in the field of Carnatic music as an accomplished player on the veena.
C. V. and Kamala Narasimhan had three children and five grandchildren.
Narasimhan held senior positions in Tamil Nadu police as well as important posts under the Government of India including Joint Secretary to Government in the Union Home Ministry,  Director of Central Bureau of Investigation and Member-Secretary of the National Police Commission in the rank of Secretary to the Government of India.
He was awarded the Police Medal for meritorious service in 1962 and the President's Medal for distinguished service in 1971.
He presided over the INTERPOL sessions at Stockholm in Sweden in 1977 and took a leading hand in evolving a working procedure for international cooperation in the investigation of economic crimes.
C.V. Narasimhan retired from Indian Police Service in 1983 as  Director General of Police in Tamil Nadu, and settled in Chennai. Since retirement, he continued his contributions to society, in particular to the causes of good governance and education. His services were utilised by the Government in the following assignments:
Nominee of the Governor of Tamil Nadu in the Syndicate of Bharathiar University at Coimbatore,

Member of the Standing Advisory Council of the Madras University,

Member of Justice Ramanujam Committee for Administrative Reforms  and

Member of Justice Sadashiva Committee set up by the National Human Rights Commission. He was also closely associated with consumer protection activities and functioned as a Trustee of Consumer and Civic Action Group,  Chennai for over 18 years.
He was the Chairman of P. S. Charities and President of Vivekananda Educational Society which run 24 schools in and around Chennai.
Despite the 'detour' into Indian Police Service, C.V. Narasimhan has maintained his interest in  mathematics and enjoyed tackling complex mathematical problems, specially those relating to Projective Geometry and Number Theory.
His other interests included Tamil literature, philosophy, the game of tennis of which he was an ardent fan and active player in his service days, bridge, and chess.
– This tribute is based on info at www.cvnarasimhan.org