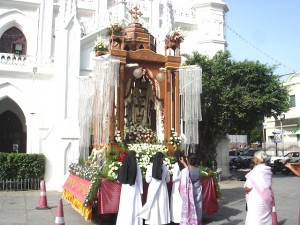 The annual feast that celebrates saint Thomas comes to an end the evening at the St Thomas Basilica in San Thome when, after the evening Mass, the flag will be lowered from the mast in the church campus.
Last evening, Saturday a car procession was taken out in the church neighborhood – the statue of the saint was set in a  decorated car, decorated with flowers and lights. The car as it was was left in the church campus and on Sunday morning, lots of people who came to attend Sunday Mass, visited the car and said a parer and took pictures.
The feast celebrates a saint who is believed to have perched and live din this part of the city and whose body was buried here after he was killed in the Saint Thomas Mount area.