On June 29, two temples – one at San Thome and another at Ranga Road, Mylapore held their kumbhabhishekam.
At Navasakthi Vigneshwar Temple at Jonehan Street Junction, San Thome,  more than 300 devotees participated in  the kumbhabhishekam celebrations. The chief guests were  BJP party member Ila Ganesan, actress Revathi Sankaran and chef Damodaran.
The three day celebration which started on June 27 with a Ganapathi puja and a yagasalai puja ended on June 29 with a music performance  by vocalist Seergazhi Siva Chidambaram. The event was organised by K. Veeraraghavan and S. Prabhakar. For details contact 9444058090.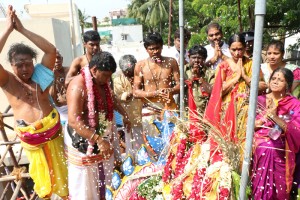 At Ellai Mariyamman temple on Ranga Road, the temple had arranged various events leading up to the actual abhishekam. From June 24 till June 28, there were a lot of homams, poojas performed.
More than 200 people had gathered at the temple to witness the kumbhabhishekam. There were troupes playing drums and also an elephant decked out in beautiful colours and clothes for the occasion. The pot bearing the sacred water was taken out in procession for the abhishekam, to the accompaniment of the drums.
After the festivities, the goddess was decorated and taken out on procession around the neighboring streets. Firecrackers were also set off during the procession.
Here are a few pictures of the event as captured by our photographer Madhan Kumar.