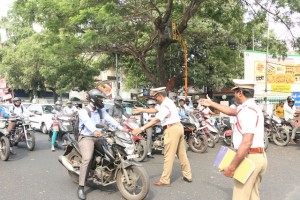 Motorists had to wear their helmet this morning as a new rule was enforced following a High Court ruling recently. On the first day of the new rule which makes helmet wearing compulsory, Traffic Police were seen checking motorists at some junctions as bikers made their way to work.
A team of police stationed at Music Academy junction were hyperactive. Some 95% bikers wore helmets; those who didn't had to surrender their original motor license ( the bikes were seized if they did not have one).
Such motorists will have to produce a bill for a new ISI helmet at the local courts to get back their license ( those whose bikes are seized will have to go to the local police station, hand over the orgnl license, go to the local court, show the bill for a new helmet and then get back the license.)
Police were not seen at the junctions in Mandaveli and Alwarpet till about 9 a.m. when we did the rounds of the area. But police said they have been told to be strict on this rule.