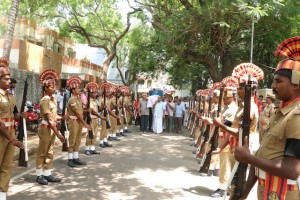 A team of the Tamil Nadu Police gave a ceremonial farewell to C. V. Narasimhan, distinguished police officer who died on July 17. The funeral was held on July 18 afternoon, and it started from his East Abhiramapuram residence.
Many senior officers of the TN Police visited the residence of the man who once was the DGP of TN Police and also headed the CBI.
Later, a team of policemen in ceremonial gear and black bands on their arms gave a guard of honor and lowered their arms as the funeral left the residence. The last rites were held at the Besant Nagar crematorium.
Read tribute at https://www.mylaporetimes.com/2015/07/distinguished-police-officer-c-v-narasimhan-passes-away/