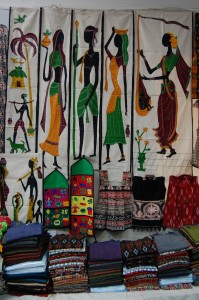 RAJASTHANI HANDICRAFTS
Check out the exhibition going on now at Sankara Hall. Cotton sarees, jaipuru kurtis, banjara bags,bandhini materials, Rajasthan sarees and more. The exhibition is going on now at Sankara Hall, No.281,TTRoad, Alwarpet. Ph: 7667059973.
TERRACOTA HANDCRAFTED JEWELLERY
Choose from a range of terracota jewellery, kurtis, salwars , washable lace garlands, mome made pickles and fries and saris at a show by MOOWES (Marketing Organisation of women entrepreneurs). At C. P. Art Center, 1 Eldams Road, Alwarpet. Ph: 9841840055.
JEWELS EXHIBITION AND SALE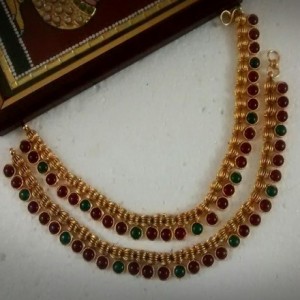 If you like traditional jewellery, or colorful stone jewellery, stop by the Monsoon Magic by Manjushaa. The show is on July 11 at 11 a.m. At Isha life Mahamudra, 117 Luz Church Road, Mylapore. Ph: 9840712901
INDIGO FASHION 
Like blue? Check out the new collection of  sarees and fabric with Kutchi tie and dye, shibori and leheriya traditions, Vidarbha tussar sarees and bandhini prints. The collection is aptly named Neel and is available at Shilpi on C. P. Ramaswamy Road, Alwarpet.
Sales
End of summer sale continues across stores in the area. Time to update your wardrobe?
REKHA"S BOUTIQUE
The yearly anniversary sale going on now till end of the month. At Rekha's Boutique, G-23,Mookambika Complex, C.P Ramaswamy Road, Alwarpet. Ph: 2498 2556
MOCHI
Flat 50% off sale at Mochi shoe store. Shop located at Chennai City Center. Ph: 43577409.
RELIANCE TRENDS
Fat 50% off sale on select merchandise. In the area, store located on R. K. Salai, next to AVM Rajeswari Kalyana Mandapam. Ph: 43320631.
SCULLERS
Here is a new idea for a sale – when you shop here, you get a discount 10 times your height. If you are 5'8″ you get a discount of 58%. Sale on till July 12. Location at Citi Center, ground floor. Ph: 28477766.
TITAN
Flat 20% off here. Sale on till Aug 16. Store located at new no.13, old no.7, R. K. Math Road, Mylapore. Ph: 24640081.